How close will Asteroid 2012 Da14 Get to Our Planet?
First Images of Asteroid! Near Earth Asteroid coming around for a swipe at our planet. Streaming Video

Asteroid 2012 DA14 may not be set to hit our planet on February 15, 2013, but the asteroid's name is an indicator that it was just found this year and a reminder that more asteroids of the same type can still be lurking out there waiting to hit us without much warning. While the US and other space agencies have been monitoring asteroid and space object traffic more closely over the past 2 decades, and have employed automatic equipment and supercomputers to plot space object trajectories, this only gives us enough warning to prepare for an impact and not prevent one. A serious asteroid headed straignt for our planet would be tough to destroy, as a nuclear explosion could fragment the asteroid instead of destroying or moving it, in which case there would be multiple impacts which would in fact be more deadly than a single strike. This is because a large enough space rock, moving quickly, might create an explosion similar to several atom bombs, but the blast radius of a single impact would not be as bad as multiple impacts spread across the planet. Asteroid 2012 Da14 has been compared to the Tunguska event asteroid, which created widespread damage in Siberia in 1908 and whould have devastated a populated area. Asteroids like 2012 Da14 can create this damage without actually leaving a crater, because they are moving so fast that they explode when hitting the upper atmosphere, creating a shock wave that would be minimized compared to a ground impact.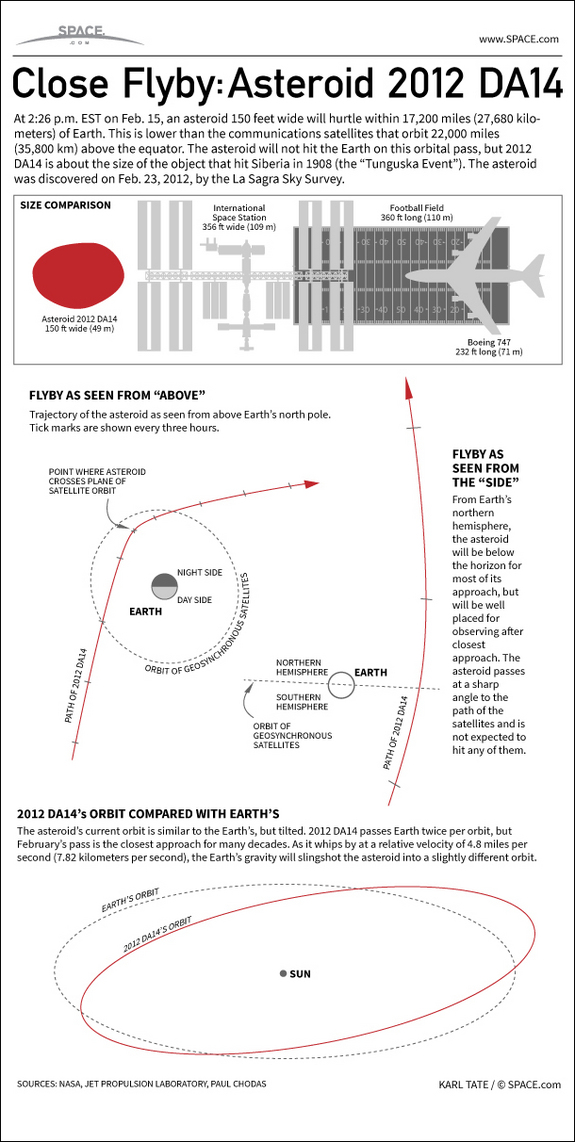 Source
SPACE.com: All about our solar system, outer space and exploration
Notes and Special Information
Special note: Bruce Willis will have to wait for the next asteroid if 2012 Da14 is just a wee one.